Merano, 1989
He started climbing when he was 11 during a climbing course. He undertook a lot of training, and the hard work was rewarded with the victory of the Italian Youth Championship and the Lead and Boulder Italian Youth Cup. The victory of the Boulder Absolute Italian Championship 2010 represents one of his most significant results and also a turning point, because he immediately chose to abandon the comp scene.
Driven by the desire to face new challenges, his interest has shifted towards the different facets of climbing, going from traditional climbing to long routes, from climbing to expeditions.
There are many great achievements and adventures that Jacopo can talk about, many of them on routes over 8b. These include the successes of the last two years: A Muerte 8c+/9a, La Rambla 9a, Gondo Crack 8c Profi 8b+ flash in 2017 and Delicatessen 8b (130m), Odyssee 8a+ (1400m) on the north face of Eiger, The Path 5.14a R, What is not 8c+ in 2018.
He is also an international setter and will be running the "Life on a Wall" workshop with Barbara Zangerl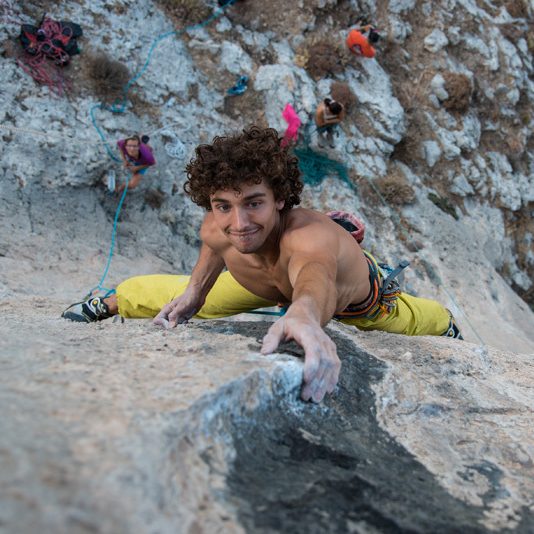 Odyssee – Jacopo Larcher & Barbara Zangerl – the video

Il video completo della nostra salita di "Odyssee" sulla Nord dell'Eiger è finalmente on-line! Buona visione 🙂📸🎥 by Paolo Sartori Photography per La Sportiva ___The full video about our ascent of "Odyssee" on the North Face of the Eiger is finally on-line!I hope you'll like it 🙂📸🎥 Paolo Sartori Photography for La SportivaThe North Face La Sportiva Black Diamond Vertical-Life Climbing App FrictionLabs #Trekneat

Publiée par Jacopo Larcher sur Vendredi 30 novembre 2018